PHP Scripts / Web Apps
Sign up for any web hosting plan and get the most cutting edge web site apps, installed absolutely easy and absolutely free. The installation process installs the app of your choice, creates the database and default settings all from a simple point-and-click interface. The application installer that we provide includes hundreds of PHP scripts and JavaScript libraries to get your site up and running… fast!
Pre-installed Script Hosting
Pre-installed scripts are working installations of fully customizable, open-source scripts that are available to you in your control panel. All you need to do is choose the script you like, tell the control panel what location you would like to install it on, then click the "install" option. No more spending hours trying to install complex scripts by hand. No more configuring files by hand, no more tricky database setups. It is completely automated. Upgrades are just as easy. When an upgrade is available, you can simply use the upgrade option to bring your scripts to the current version. Our popular pre-installed script selection includes all of today's hottest, and most widely used PHP scripts and JavaScript libraries.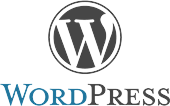 WordPress
WordPress installation is easy! Quite possibly the most popular and easily the most famous, WordPress is available for easy installation. WordPress hosting is available on any hosting package from GlowHost. If you are looking for high powered, fully scalable, and highly customizable blog hosting, look no further. Take a look at WordPress and other blog software that we offer.
WordPress has a user-friendly interface, simple and straightforward administration panel, and a helpful support site with plenty of customizable plug-ins and themes to set your blog apart from the rest. Based on the powerful server side scripting and MySQL, WordPress is the ideal free blogging solution for almost any web site.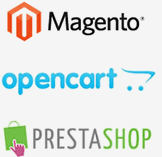 PHP Shopping Carts
We offer several of the leading PHP shopping carts on the market today, including installation and hosting for Magento, PrestaShop, and OpenCart. These are simple one-click installations which you can do on your own or ask us to perform for you. All are enabled with fully customizable templates which means you are up and running with a custom cart in about 1/3rd of the time as a conventional shopping cart solution.
Each cart supports all the popular credit card processors, and can be used with our merchant account offer which includes free Authorize.net setup ($99 savings). There are many available options for each cart like integrated online check payments and support for running credit cards via your existing merchant account at your physical storefront or online gateway. You really can't beat GlowHost's wide variety of e-Commerce solutions. Combine it with an SSL Certificate and you are in business in a flash! Take a look at the current PHP shopping carts that we offer.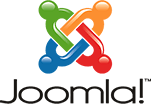 Joomla
Joomla is a full-featured content management system that can be used for everything from simple web sites to complex corporate applications. Joomla is fast becoming the content management system (CMS) of choice for many webmasters due to its relative ease of use, and great looking template set. Joomla installation is a snap with our auto-installer.
Joomla has an easy to use administrative back end which is great for all user levels and can make building a comprehensive web site easy to do. Joomla has a very strong community following and support for Joomla can be found on many sites across the web. We have large-scale corporations running their web sites based on the Joomla software package and we have mom-and-pop web sites that love it too. Take a look at the current PHP content management systems that we offer.

Drupal
Another industry leader, Drupal, is a fantastic content management system. Use Drupal to build everything from personal blogs to enterprise applications. Thousands of add-on modules and designs let you build any site you can imagine. Drupal installation is now a breeze with our hosting service.
Drupal is free, flexible, robust and constantly being improved by hundreds of thousands of passionate people from all over the world. See all scripts offered by the GlowHost auto-installer available on every hosting plan from GlowHost.
vBulletin Hosting
GlowHost offers support for vBulletin 5 Connect on every web hosting package. On select web hosting packages from GlowHost, we offer a free vBulletin license plus professional vBulletin installation service.
vBulletin is a powerful, scalable and fully customizable forums package for your web site. If you have been on the internet for long, chances are you have been on a vBulletin powered forum. It is written using the Web's most popular scripting language, PHP, and is complemented with a highly efficient and ultra fast back-end database engine powered by MySQL. vBulletin has oodles of plug-ins available to make your forums stand apart from the rest of the crowd.
vBulletin is an ideal community solution for almost any web site, small, medium, and large. Our shared hosting plans have plenty of power to run vBulletin. But for ultimate power and popular boards, it can be deployed to a dedicated server, a cluster of dedicated servers, or better yet, to the GlowHost Cloud. vBulletin is easily scalable across multiple dedicated servers or virtual machines and powers most of the largest forums on the Internet today.
Learn more about our Free vBulletin License and Installation…